Series V Carrier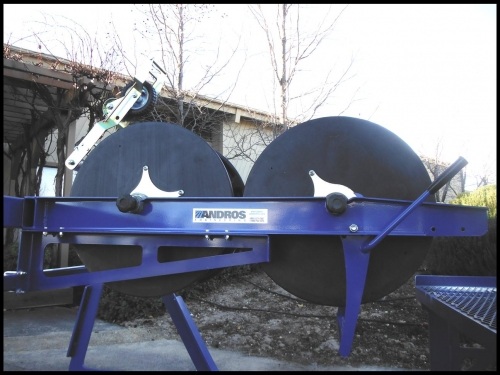 C1104-102 Series V Carrier
The Series V Carrier is an improvement on the original design by allowing users to load and carry two rolls of tape on the same carrier. All the features of the original Series III design are included in the Series V including, allowing tight tapeline spacing on drip intensive crops, an easy loading system that allow the user to roll full rolls into place (no lifting), and the exclusive Andros braking system that provides the perfect amount of braking force to prevent freewheeling without stretching the tape.
Easily mountable in a wide variety of configurations, these carriers can handle any tape layout scenario growers can think up. From 1 line per bed up to 3 lines per 40-inch bed, the carrier's unique design allows operation under the widest range of spacings.
Loading and unloading is simple and safe, just insert the shaft assembly into a full roll of drip tape, grab the easy grip lifting handles and place in the carrier's cradle assembly. The Series V Carrier allows you to store one roll as the other is dispensed. When the first roll is finished, the second roll is rolled forward to take its place and the injection process continues with the second tape roll positioned correctly over the injection tool. The smooth plastic side discs prevent tape from becoming damaged or tangled.
Additionally, these carriers accept all sizes of the Andros Agri-Spools.
Series V Carriers users will realize a noticeable increase in operator comfort and satisfaction. The result? More correctly installed tape per day!