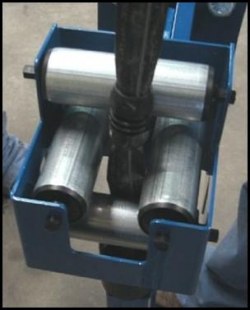 Universal Guide Roller
The Universal Coupler Tool from Andros provides a safe and efficient method for injecting drip tape that has been spliced together with mechanical couplers. Based on the proven design of the AEC Universal Injection Tool, this tool allows a coupler to be injected smoothly and safely to depths up to 8 inches in ideal conditions.
The large radius plastic shoe allows the coupler to make the 90-degree turn into the ground without pinching the tape. This large radius is also ideal for passing the taller profile of the newer pressure compensating emitters.
The tool's cross-sectional width is identical to our Universal Injection Tool. This narrow design allows the tool to pass easily through even the toughest ground while maintaining a uniform injection depth. A heat-treated shank provides exceptional strength and the Hi-chrome shin and toe protect against abrasive wear.
When the Universal-Half Coupler Tool is used in conjunction with our Series III Tape Carrier and High Speed Guide Rollers, the resulting combination provides a high-speed, high-capacity delivery system that will allow tape users to inject faster and more accurately than ever before.