Driptape Splicing System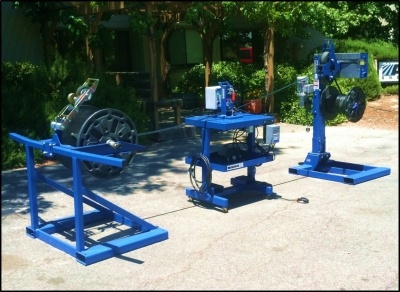 ST1501-001 Driptape Splicing System
The Andros Driptape Splicing System is designed for repairing or joining new and reused driptape. This flexible work station allows growers to maximize their driptape investment. Designed to help growers who may want to utilize the remaining unused tape on their factory rolls, or who may want to splice multiple row lengths into a single roll. The coupler friendly traversing head allows the operator to create perfect contiguous rolls using specialized coupling systems like the AEC 700 Series Coupler. Also, a dual voltage electrical system provides the flexibility to use any type of heat splicing system.
Growers now have a choice in methods to permanently repair or join drip tape by winding used or new product onto a reusable reel using the Andros Universal Tape Splicing System.
Dual voltage (120 VAC & 12 VDC) for heat splicers or other accessories.
Linear distance counter to measure tape length wound onto spool.
Rotating double spool carrier for easy loading and unloading.
Super Duty Universal Retrieval Head as standard equipment.
Collapsible for storage.
Forklift receivers for transport.
Applies proper tensioning to tape when rewinding with or without couplers.
Integral hydraulic system with speed control valve.
Work tray.
Deep cycle battery and battery charger.
All steel construction.