LF DripMaster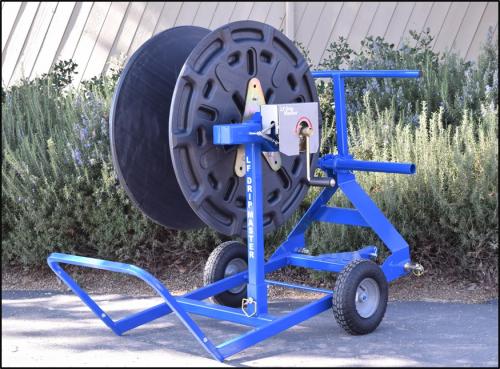 LF1602-001 LF DripMaster
For years small growers across the globe have been growing crops for their families and communities using drip irrigation. One of the challenges they face is to have an affordable solution in mechanizing the use of drip irrigation.
The Andros LF DripMaster, our newest manual system for Flat-Net/Lay-flat collection.
Built to handle 2"- 6" material, this newest version captures all the quality craftsmanship that Andros is known for. Our ergonomic design function provides safe and easy loading and unloading of full spools of Flat-net or Lay-flat. A combination winder/braking system maintains stability and control during layout or retrieval operations. Like the original DripMaster, you will have the same option(s) to change the direction of dispensing and collection from parallel to perpendicular.
The durable carrying cart with 12-inch diameter pneumatic wheels provides a stable platform that is easy to manual transport using the accessory handle LF1602-205 through the field and over obstacles. Integrated Cat I Adapter allows easy attachment to the small tractors, including 2" Receivers typically found on Pickup trucks.
Features:
Manual Cart
Cat IAttachment
Manual Winder
Adjustable Spool Arbor
Friction Braking
Pneumatic Tires
Adjustable Direction Collecting.