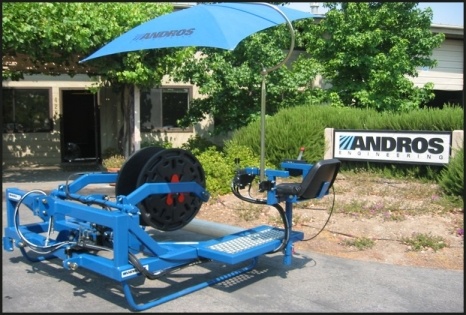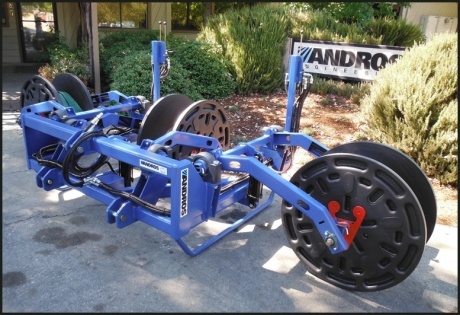 LF0801-001 3 Pt. Lay-Flat Machine MD1303-001 Triple Head Lay-Flat Machine
The Tractor 3 Pt. Lay-Flat Machines allow users the ability to layout and collect pliable irrigation piping systems (Lay-Flat), safely and efficiently, this tractor powered version is the simple solution for handling reusable rolls of sub-main manifolds from water delivery systems.
Built Andros tough, this high quality engineered device provides growers the flexibility and insurance to overcome nearly all obstacles with placement and re-spooling.
Built with an articulating spooling head, slide slopes and ditches are a breeze when the user can orientate spool to match ground level.
Features
4 to 1 ratio controller for easy re-spooling.
Adjustable operator Station.
Adjustable Spool Driver for 4", 6" and 8" Lay-Flat.
Variable Speed Controller for Speed Adjustment.
Bolt on Cat II Adapter.
Front or Rear Mount Capable.
Shade Umbrella.
Operational Features
No lifting required.
Machine hydraulically loads and unloads full reels and can handle 4", 6", & 8" lay-flat.
Safe and Simple to operate.
No lifting means operators are protected from injuries caused by lifting rolls of lay-flat that can weigh upwards of 300 pounds.
This machine is equipped with multiple safety features to protect the operator during mobile and stationary operation.
All retrieval controls are clearly marked and accessible during both mobile and stationary operation.