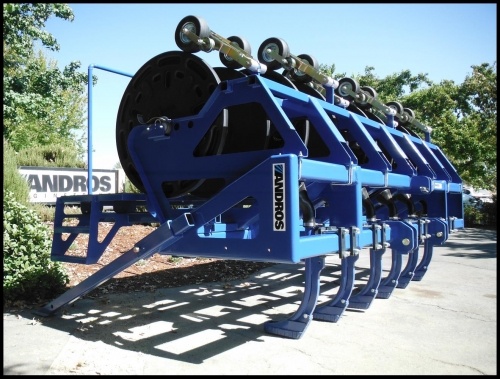 ML1304-001
This versatile new platform from Andros enables users to reuse poly drip tubing. The True Blue Series II deployment platform dispenses re-wound poly tubing maximizing your investment by using the tubing over and over again. Paired with our SX Poly Winder which collects used tubing on our 36" SX spool, you can now redeploy your product multiple times after spooling.
Our ergonomic design allows field technicians to easily reload spools into our new, compact SX3 carrier. The carrier's unique design does not require any outer flange removal to load spools, just lift the spool resistance lock, roll your spool into place and re-engage the resistance lock, and away you go saving time and preventing back injuries.
These robust applicators can be set at a variety of depths, and each tube layer is protected by our wear resistant Hi Chrome boot which shields your applicator from destructive abrasives. Users can align multiple carriers on narrow spacing for those projects with large flow demand or high uniformity requirements.