Plant Research Equipment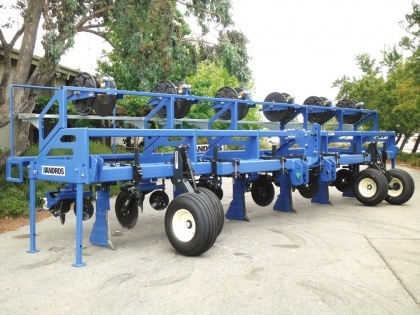 Whether the soil is surface or shallow, medium or deep, our driptape line for injection can be matched to any application. Andros has a wide selection of tools, systems, sleds, and machines that can help you to load and unload full reels of driptape. In addition, these machines are able to inject driptape as a mechanic system, meaning they can open the soil, inject driptape, then close the path, keeping the driptape buried. All the heavy labor is done in just one pass.
Our extraction and retrieval systems allow users the choices to either reuse or dispose of driptape. All our retrieval devices can be outfitted to match a multitude of hydraulic powered platforms. Without much effort these machines can dig up and retrieve your lines to make clean, full reels for reuse or disposal in a cost-effective and time reducing way.
This line will help users to inject or retrieve lay flat in a simple and easy manner. All of Andros's innovative machines help you to improve the way you handle lay flat; providing you with many options to reuse or dispose your lines.